Lord of the Dark Dimension, the dread Dormammu!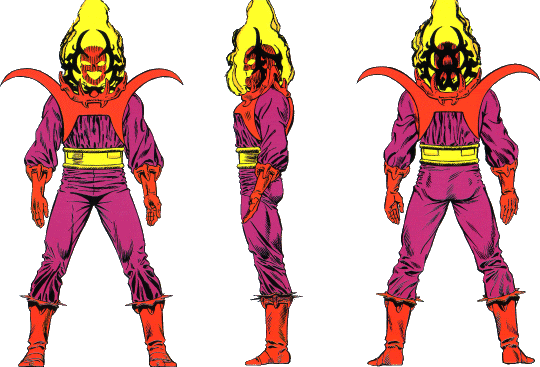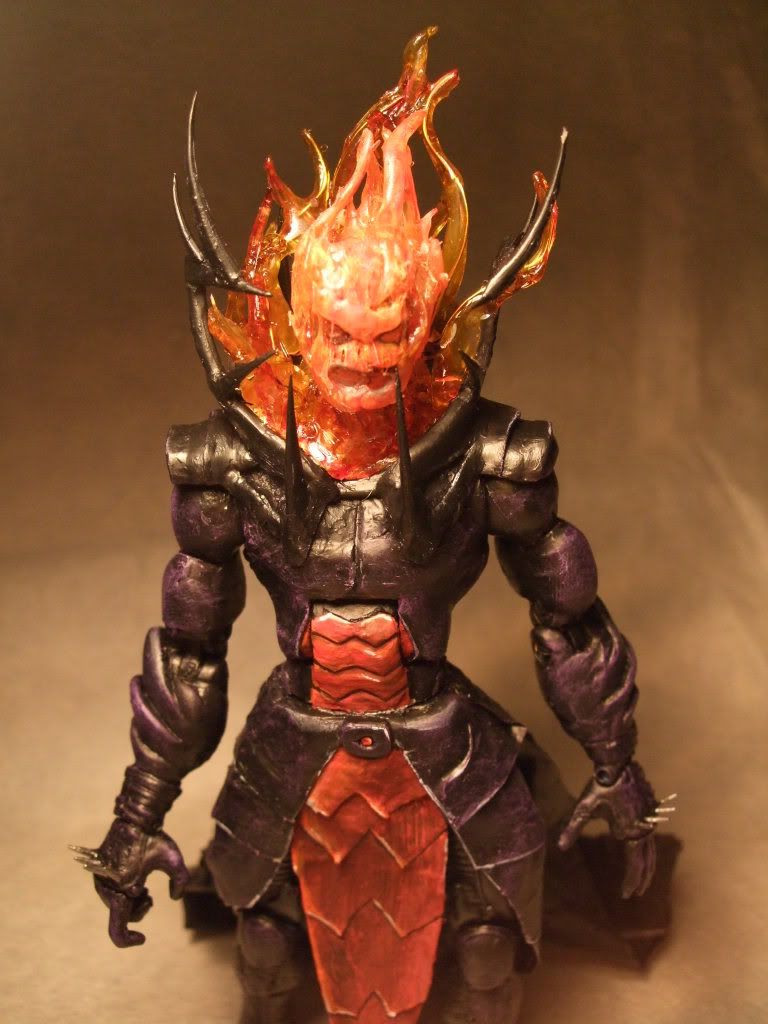 I'm going to get this off my chest right away. I absolutely hated making this guy, but I had got it stuck in my head to make him months ago and he was something I had to get out of my system.
Dormammu presented 2 major challenges for me:
1) His head is on fire, and this is always difficult to convey in figure form. There wasn't really any already made head that would work for this. Johnny Storm is about as close as you could get, but Dormammy doesn't have a human face. Not only this, but rather than just a flaming head, it is almost more like his face is suspended in fire, so Johnny's head with a little flaming hair wasn't really going to look ok.
2)While having an inconic head, Dormammu has been cursed with a boring body for his entire comics career. It's so generic that I'm unsure why Toybiz or Hasbro haven't just cranked out a repaint of another body as Dormammu.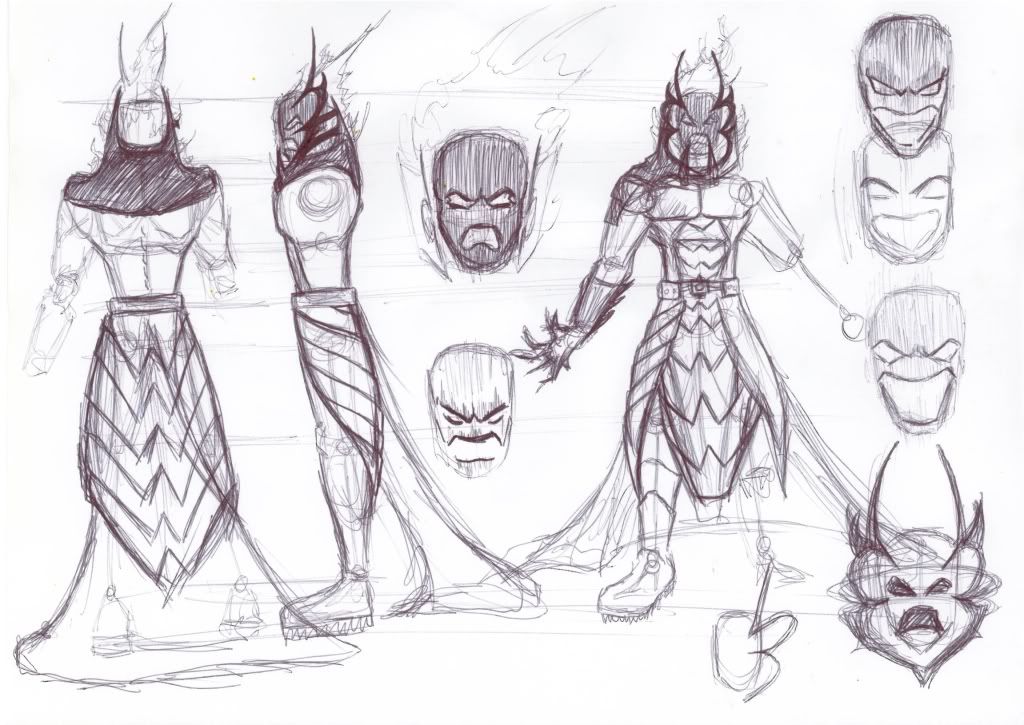 As you can see from my sketches I went with a more recent costume for the Dread One. This costume was seen in the comedic story 'Indefensible,' but I liked it as it had shades of Pinhead from Hellraiser with the skirt like trail behind him. The problem with this costume and all skirt type things, is that it inhibits articulation. I tried to get round this by using several layers, separated by armour sections that would still allow him to pose in any way. His trail is latex coated paper so retains flexibility and allows him to sit down.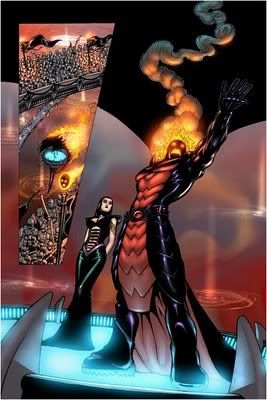 The key to Dormammu is his head. I tried to capture the flaming effect by using hot glue over a Johnny Storm semi-transparent head. This Johnny Storm figure (I think from the Fantastic Four movie line) has an LED in his neck stalk that allows the head to retain poseability but still light up. I cut off Johnny's face and used hot glue, burning my fingers loads of times trying to tease the glue into shape by holding it upside down and wire to guide it. The glue was then painted with transparent yellow and red Tamiya paints. To make sure Dormammu's face remained visible when the LED was lit, I sculpted his face from Miliput. The light doesn't shine through this and creates the silhouetted face you can see in the pics below.
I broke the LED several times in this custom and had to tear him apart (cursing all the time) to repait it. I eventually had to invest in a cheapo soldering iron to help me out. It was marginally succesful and just as I finished the custom the LED stopped working again. GAH! The pictures you can see of it lit are from an earlier stage in the custom. I'm hoping that the LED problem is just the batteries. However, even without the light up effect, I am quite happy with his flaming head effect.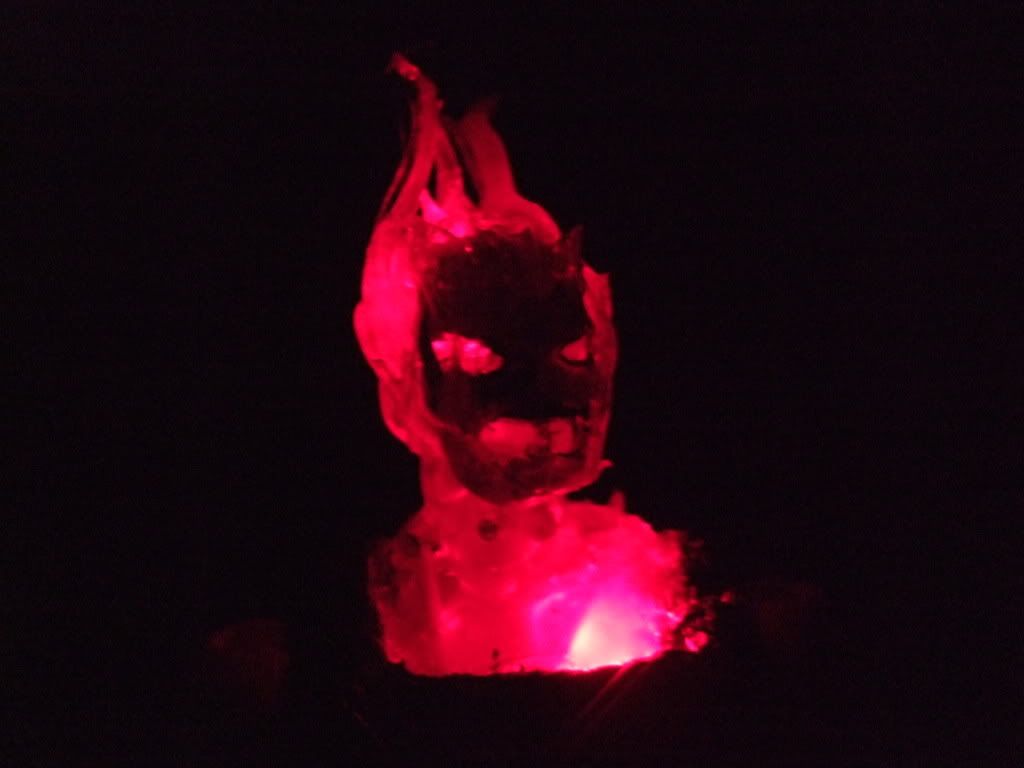 One part of the 'Indefensible' costume that I wanted to improve upon was the 'crown' surrounding the head. From reading Dormammu's early appearances I noticed that he usually had a frame-like crown around his head. I really liked this and tried to work this into the custom. I had to make and paint the crown at an early stage as the fire overlaps and engulfs it at some points. Once the hot glue was put on, it would have been impossible to paint the crown. The crown is made from flossers.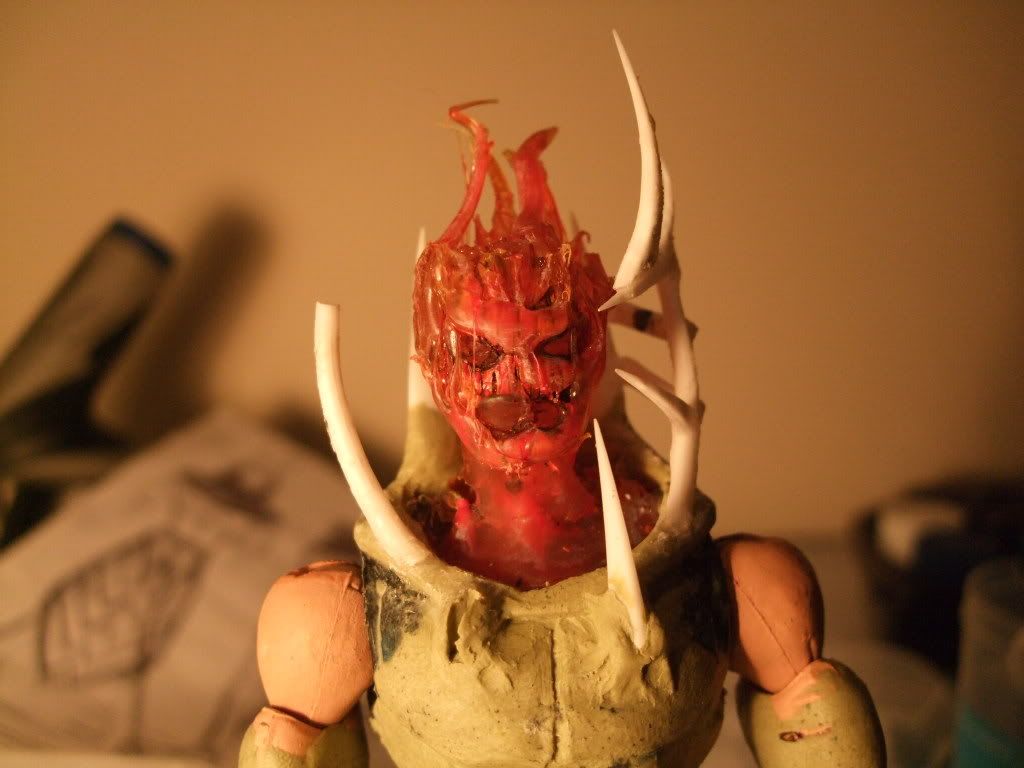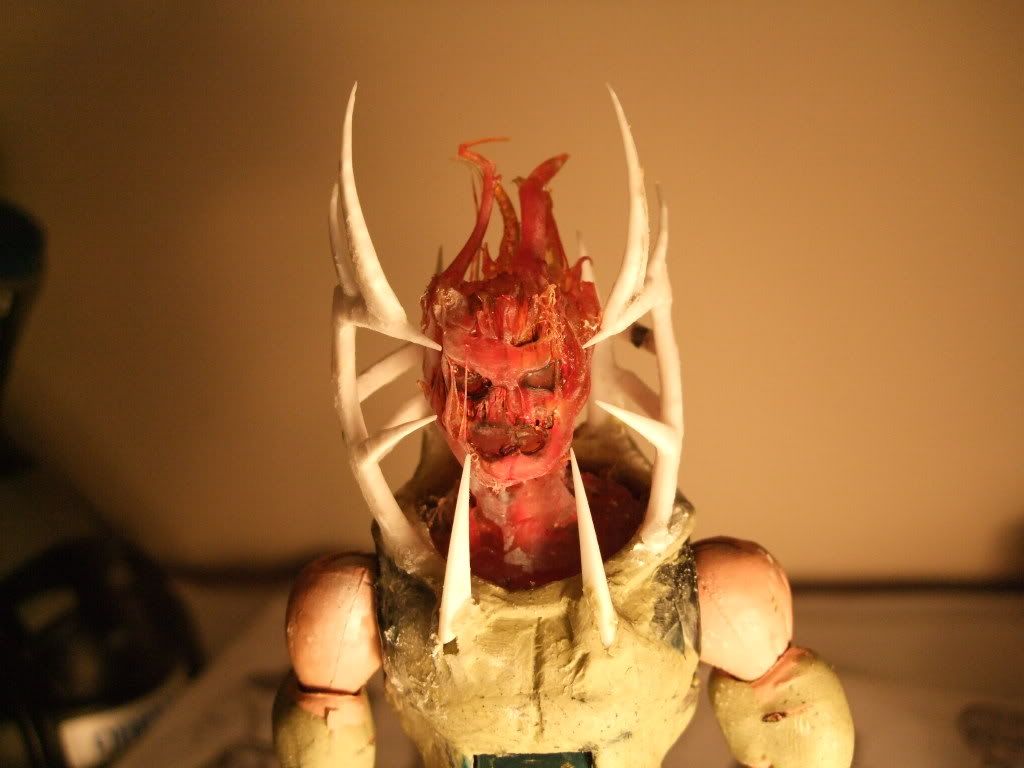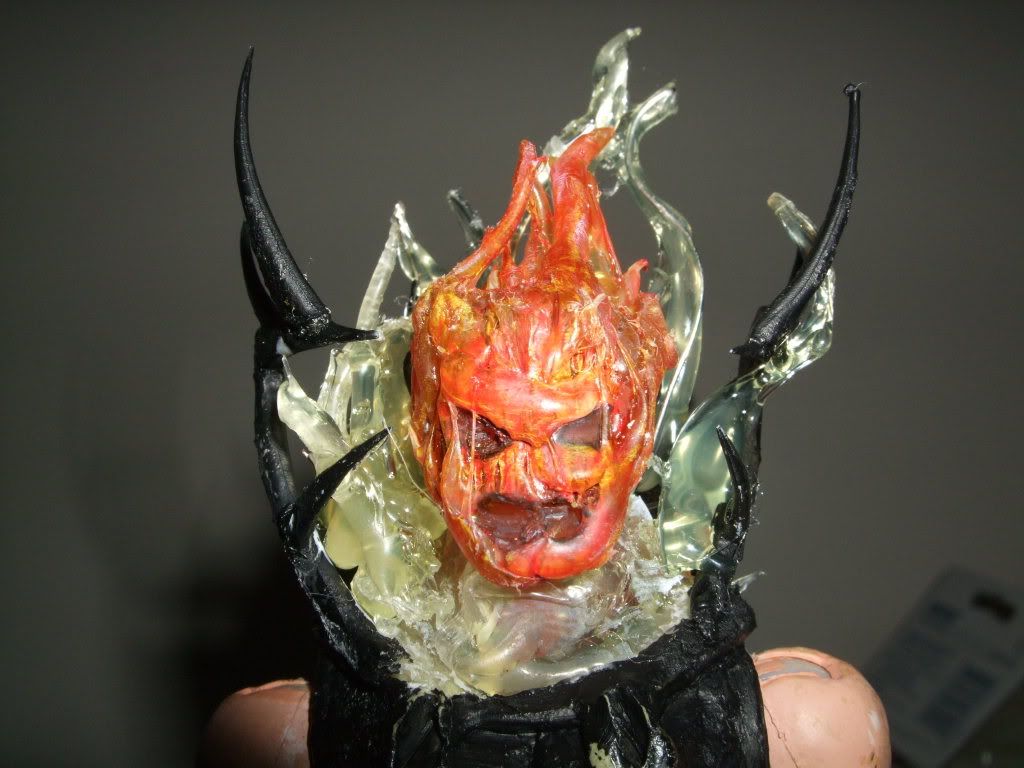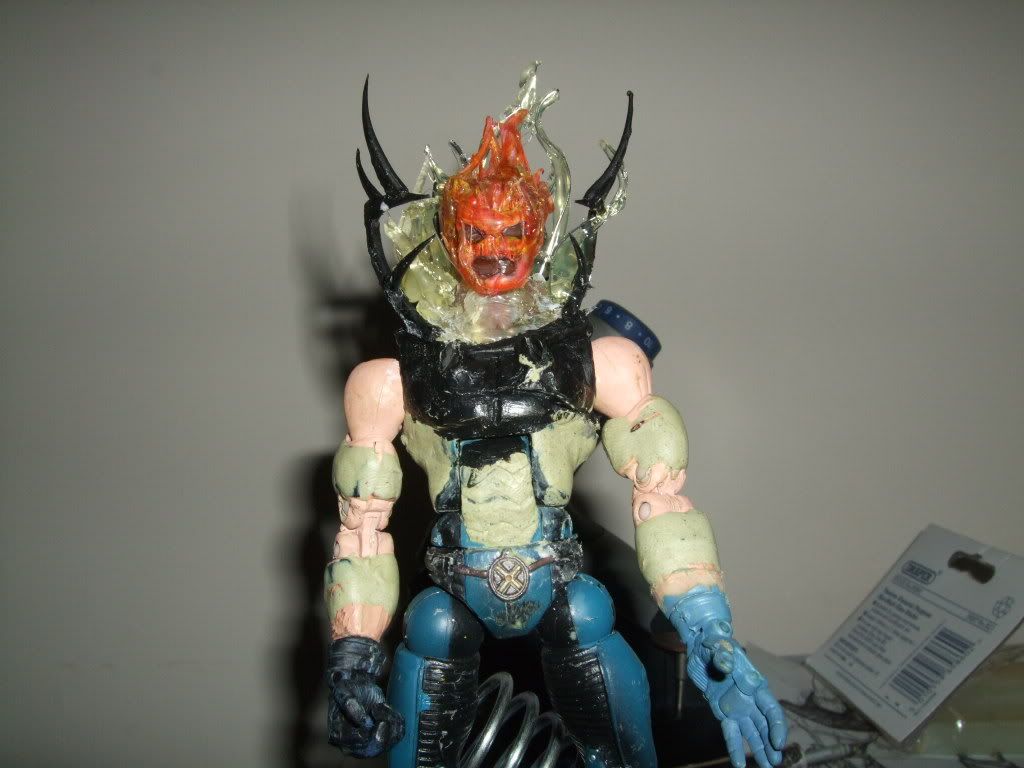 In the end, while I enjoyed the challenge, I am not totally happy with Dormammu. I may go back to him at a later stage and improve the paint apps and see if I can get the LED to work again.
But anyway, at least now Doctor Strange has some competition and Mephisto has someone to keep his throne warm.