I've never really liked the ML Dr. Strange figure. The cape just swamped the figure. I've wanted to make a Dr. Strange figure for a long time, but just never seemed to get round to it. I did attempt to make one after my success with Swarm's cape, but it didn't work out.

So I went back to the drawing board and finally decided to do another costume for Stephen.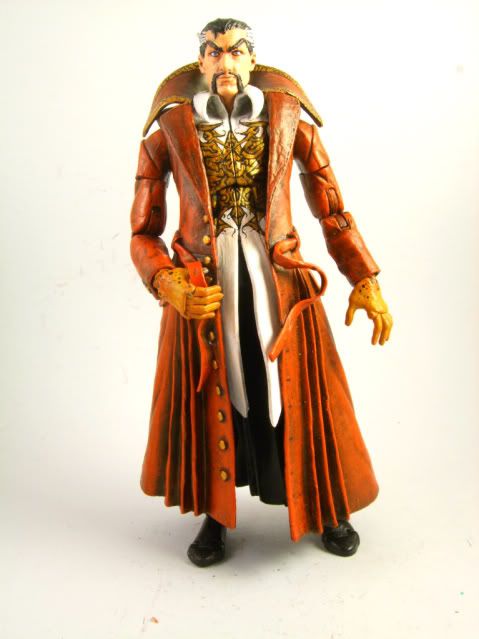 This is

Dr. Strange

in his trench-coat costume. I like this look when it premiered in the 90's but it didn't stay around for long.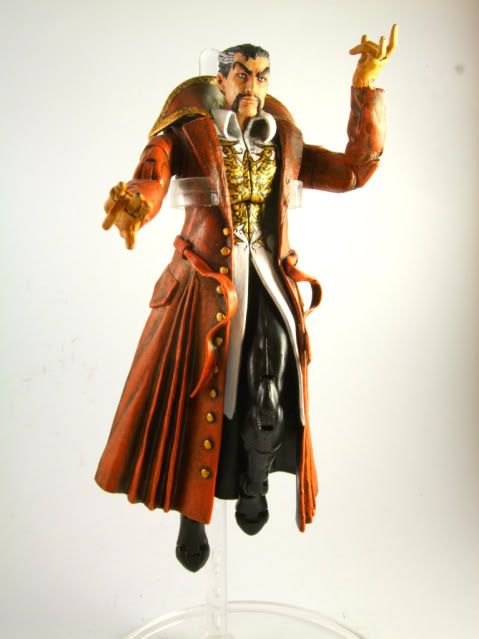 The main body is from ML Electro.
The head is from ML Dr. Strange with resculpting to the moustache and eyebrows.
The arms are from ML Dracula.
The hands are from a F4 movie Reed Richards.
The coat is from Ghost Rider Blackheart (really hard to track down!) and I cut out a section from the back and pulled it back so it didn't swamp the figure so much.
The coat collar is from ML Dracula's cape collar.
The shirt collar is sculpted.
The shirt tails are from ML Dracula's jacket.

The detailing is painted on. It was all pretty random to be honest but I had to make sure the design on the shirt was more or less symmetrical.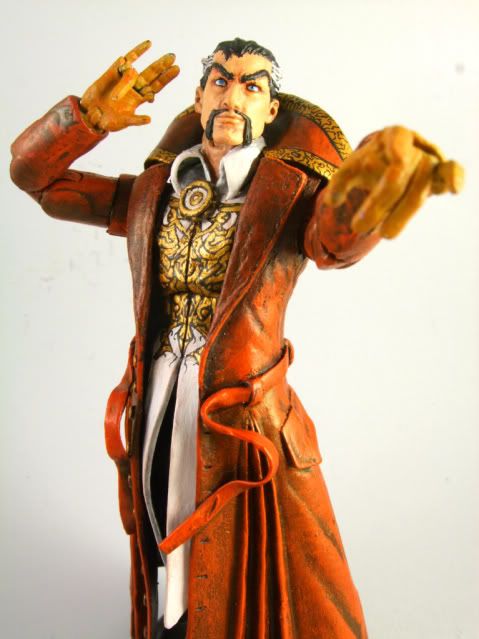 The costume in the comics doesn't feature gloves, but I thought I'd put Stephen's classic gloves on as I like the idea that his hands are so gnarled and scarred that he just prefers to keep them hidden.

One thing I'm

not

too happy about with this custom is the

Eye of Agamotto

.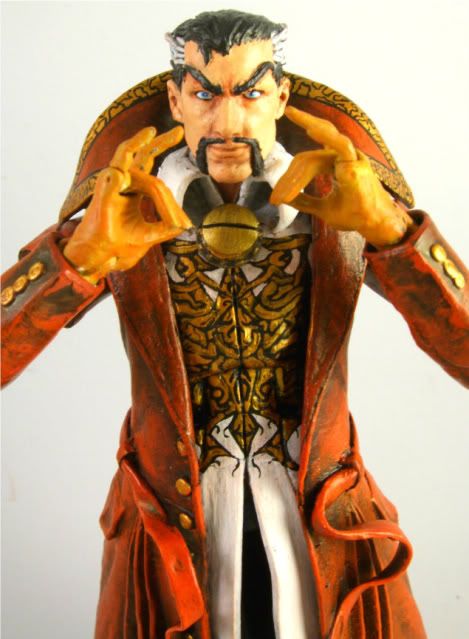 I think it works well in the overall design but on closer inspection I think it could be better. I'll have to revisit it. I'm happy with it's application though, in that there's a magnet embedded in Stephen's upper chest that the Eye latches onto, and then the cover for the Eye latches onto that, so it can be displayed open or closed, or can be removed completely and held by the figure.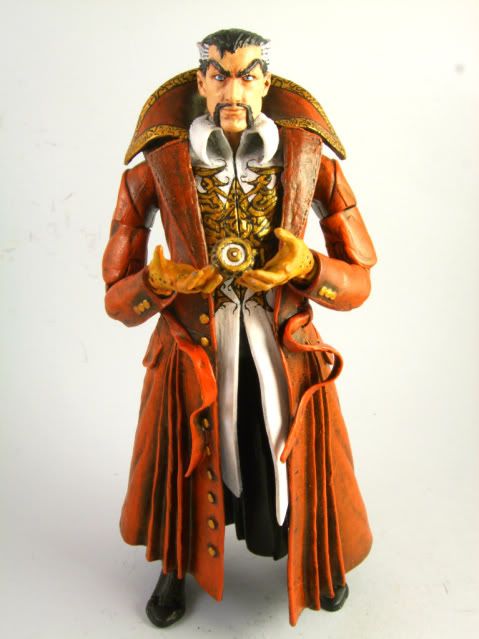 The other accessory that I'm

really

proud of is the

Book of Vishanti

.




I made the book cover from a piece of folded card and then sculpted the bindings and designs onto it. The pages turned out much better than I anticipated. I cut a sheet of A4 paper to a size slightly smaller than the cover then folded the pieces in half. I took a needle and thread and stiched the pages together along the spine. It took a lot of effort to push a needle through that thickness of paper, but I got there eventually. I then glued the front pages onto the cover and dropped the whole thing into some black tea for a few seconds. This stained the pages just enough to discolour and age them.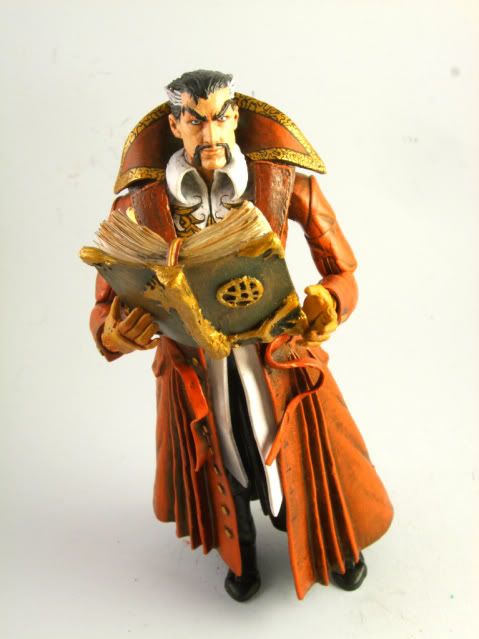 I then dried the book on a radiator and it really helped to warp the paper and turn up the edges. I took a fine brush and inked some designs and scribbly lines for the text and then painted the cover to look leathery with gold ornamentation. I finished it off with a twist tie painted like a book mark.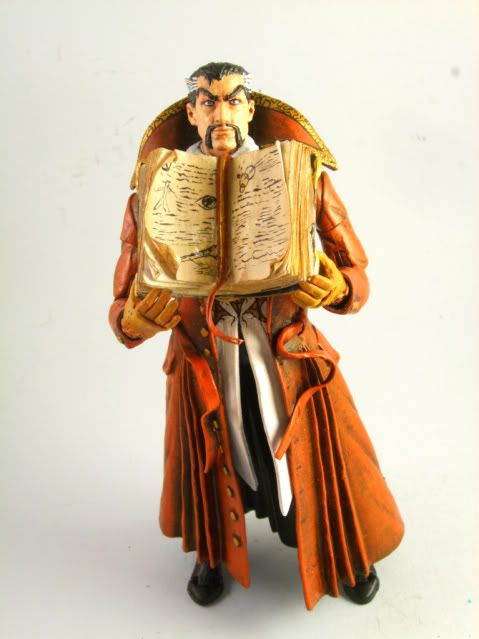 So now Stephen Strange can get all wrapped up in his study of the tome...

but evil is always ready to take advantage of his momentary distraction.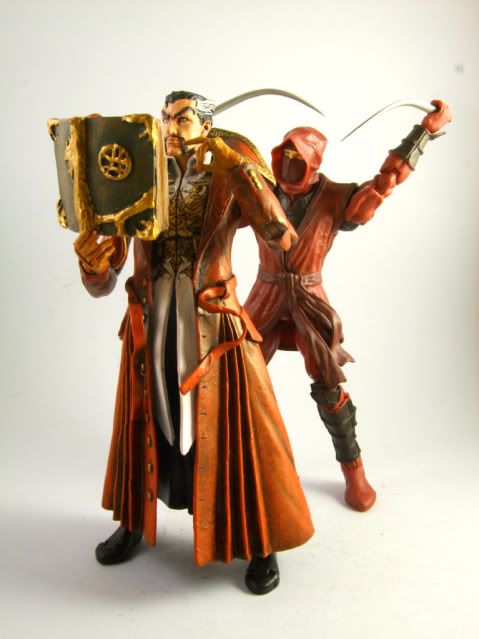 Luckily, Stephen is not alone...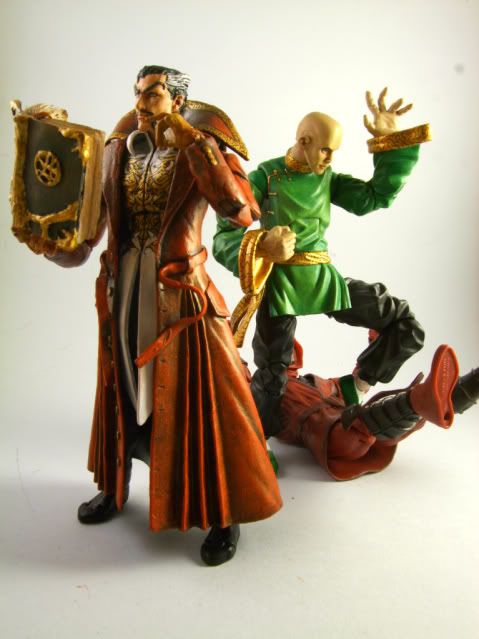 Wong

always has his back.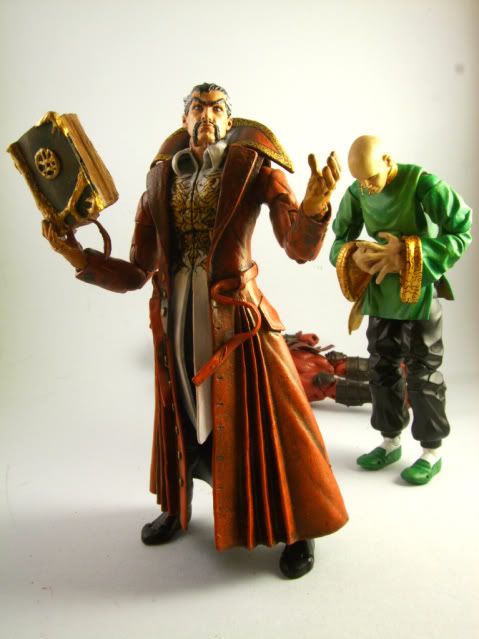 I imagine that this is a common base for Wong as it seemed like a no-brainer to me.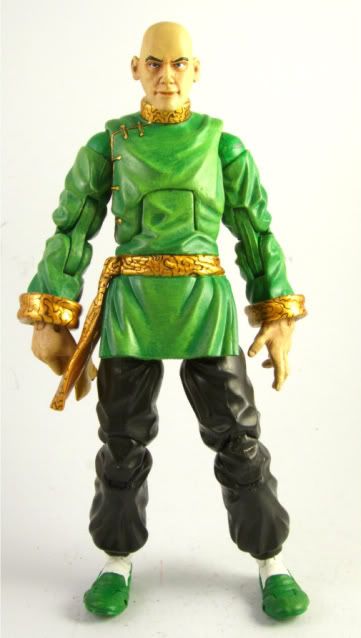 The body is SOTA Street Fighter Gen.
The head is from ML Quicksilver.

Wong is a fairly simple custom. Removing Quicksilver's hair and smoothing over what was left was quite a challenge though.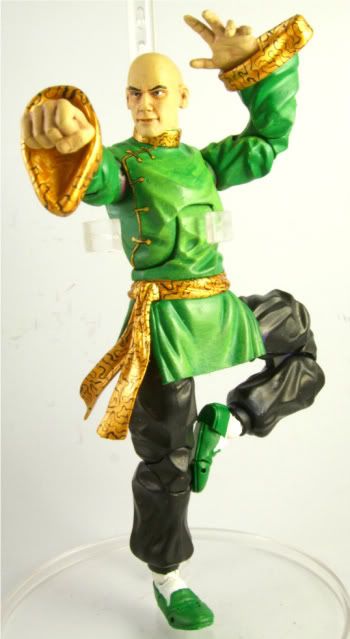 So now Dr. Strange and Wong are ready to take on Dormammu and any other mystical threat!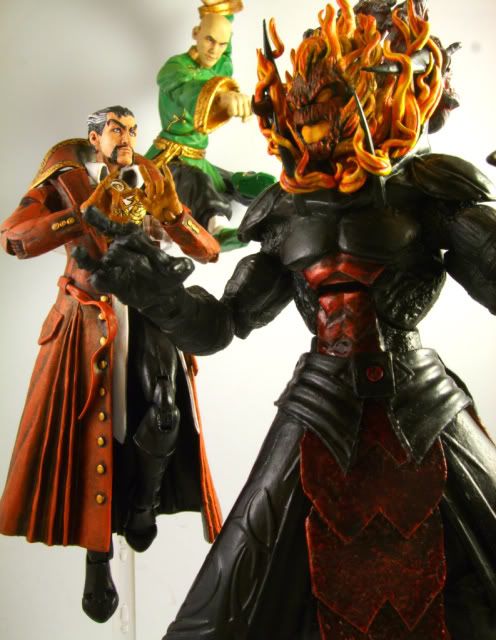 Thank you for waiting. The doctor will see you now.