I've been snowed into my house here for over a week, so have had plenty of time to finish up a custom I've had lying around for ages. He started off as being a custom of The Void from Siege, and I was using the McFarlane Spidey body and extending the arms and body, but then I ended up hating Siege and The Void was beaten in a stupid way, so he just sat in a half hacked up foetal state for months.
So, anyway, with the recent release of the new Carnage mini-series this guy reappeared for a short time with a redesign by Clayton Crain that really clicked with me. I just wanted to make a figure of this guy all of a sudden.
Doppelganger
was created during the horrendously awful Infinity War. Evil versions of Spidey were all the rage in those days, so he stuck around for the equally awful Maximum Carnage, before disappearing into obscurity.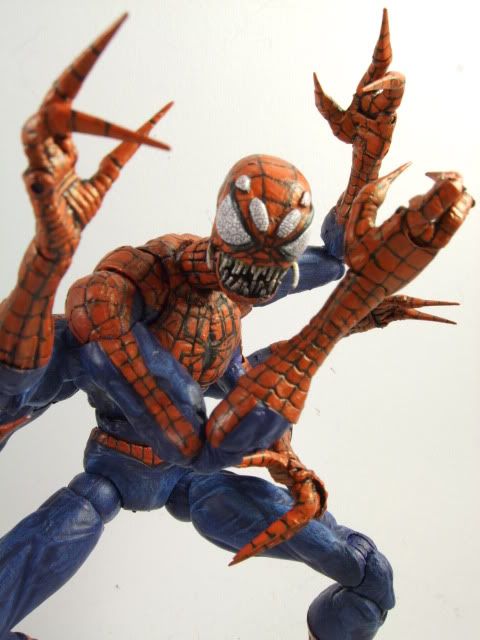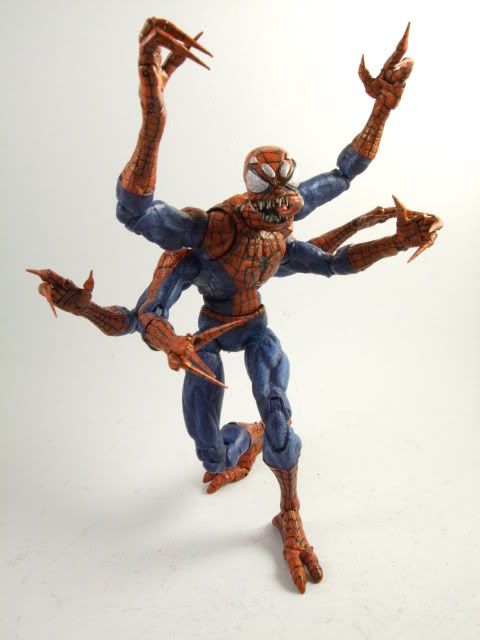 Doppelganger has an articulated jaw and a removable, bendable tongue.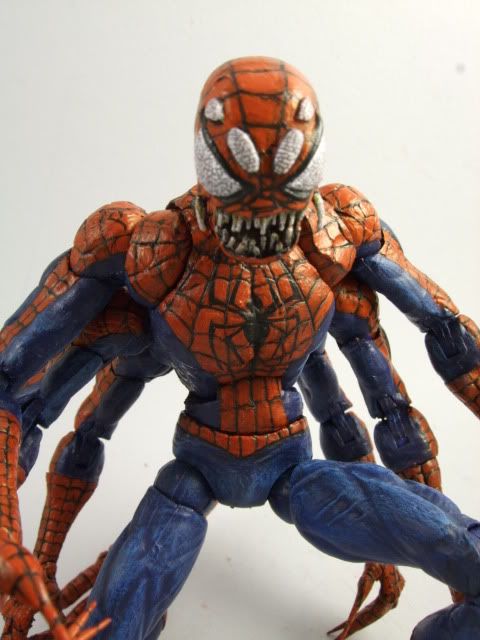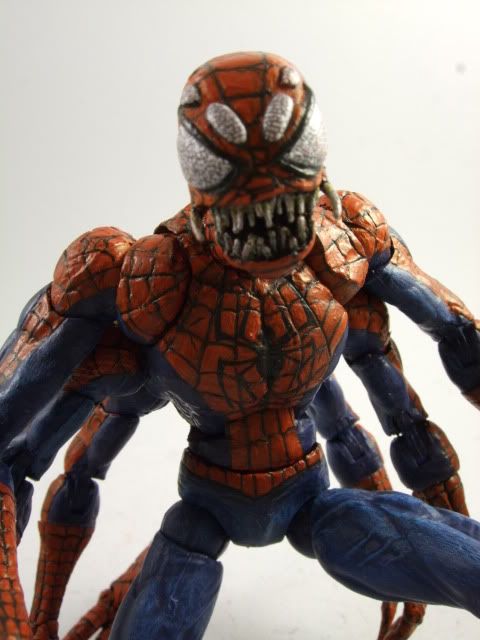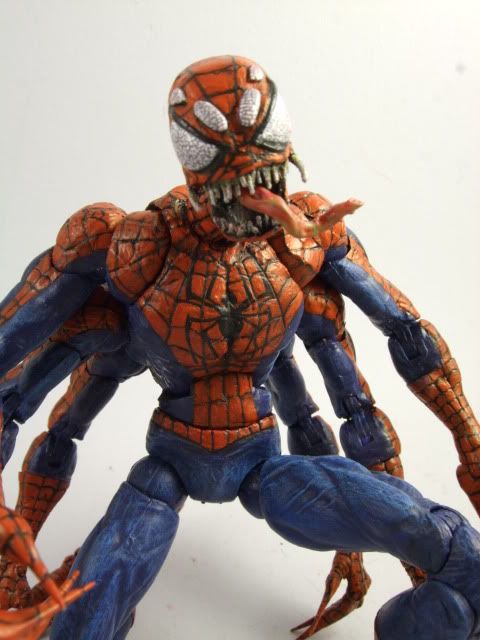 I also rustled up a base for him using ML2 Hulk's base with a wire and hot glue web over the cracked wall.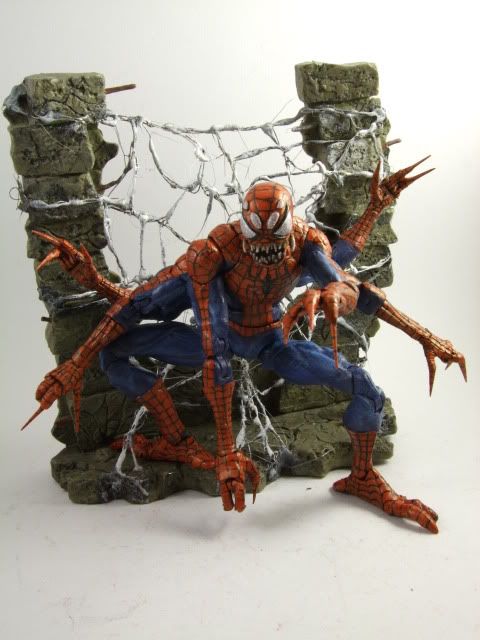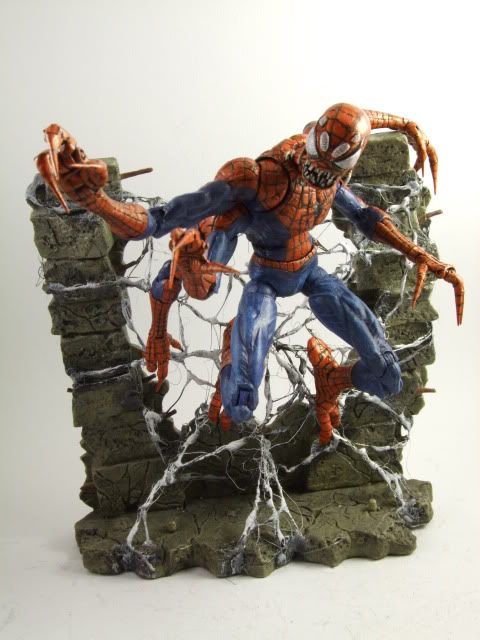 A lot of Spider-men went into making Doppelganger here.
Body: McFarlane Spider-man
Neck: Sinister Six Spider-man
Arms: McFarlane Spider-man (times 3)
4/6 hands: McFarlane Spider-man
2/6 hands: Ultimate Nightcrawler
Head: Moonknight
Jaw: Quicksilver's finger articulation
Toes: Blackheart
Claws: Flosser tips
Teeth: Toothpicks
Sculpting material: Milliput
Paints: Games Workshop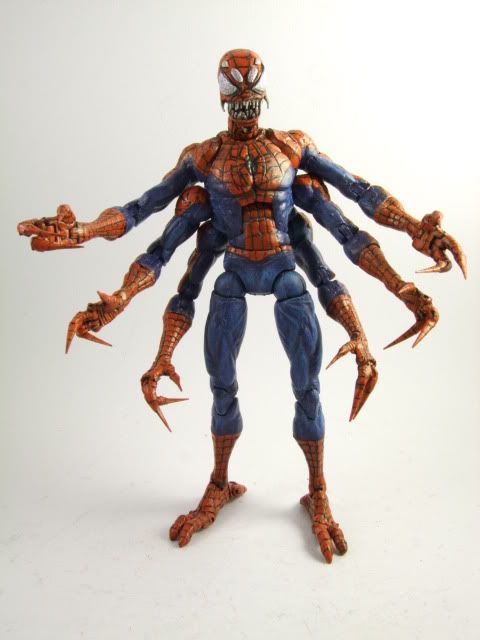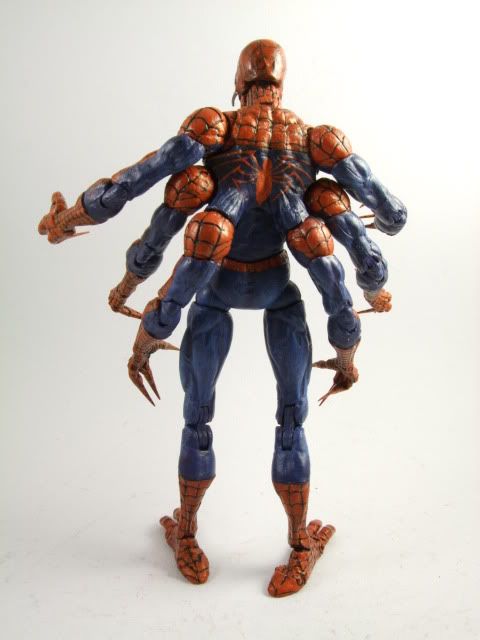 So yeah, there's a lot going on as far as parts are concerned. It took a lot of work to get all of those arms onto that slim body while retaining the articulation. I wanted all of the arms to at least have the shoulder joint partially set into the body to create a more organic look to it. There were loads of moments when I thought I'd gummed up all the internal joints, but luck was with me, and it came out okay.
I had to build out the back a little for the last couple of arms so that they wouldn't interrupt the ab crunch.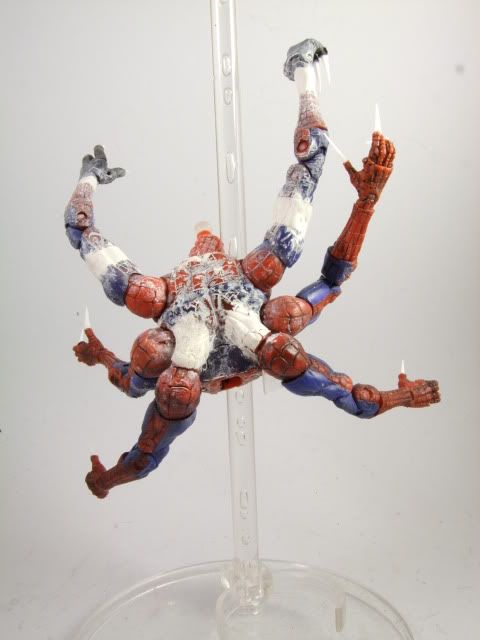 I added in the Sinister Six Spidey neck as I think it gives him more articulation for monstrous crouching poses and added a magnetic link to the head. I don't really know why I did this to be honest, but I may come up with alternate heads for him one day.
I wanted to capture his new face design from the Carnage miniseries, but everytime I tried, it came out too sympathetic looking and that wasn't the overall look I was going for. So I ended up mixing the original design (Spider-man mask style composite eyes) with the new design (multiple eyes) and also brought back the clawed 3 fingers.
Randomly, I decided on a Moonknight head. I sculpted the eyes and cut off the lower part of his head. I gave him a moving jaw using the joint from a fodder hand I had lying about (sorry Pietro, but you weren't using it anyway). The teeth are all toothpicks which I whittled down and glued individually, before covering them with milliput. I also popped a little magnet in the back of his mouth so that I add a 90's style tongue (in a little homage to the old Toybiz Doppelganger figure).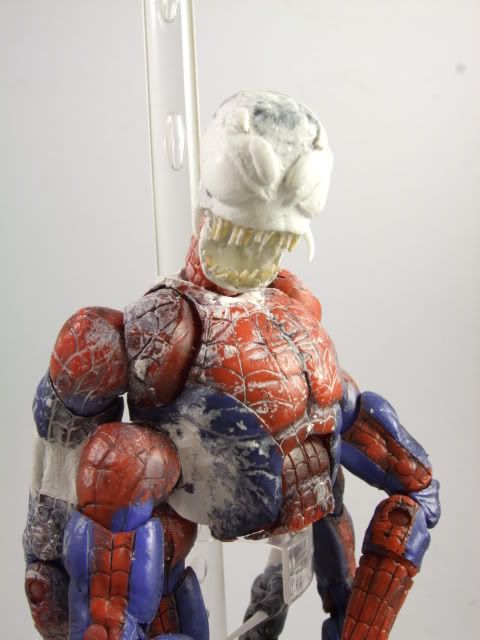 I added Blackheart's toes to him and kept the articulation. I also added an articulated.... heel toe... I dunno what it's called, but he's got it.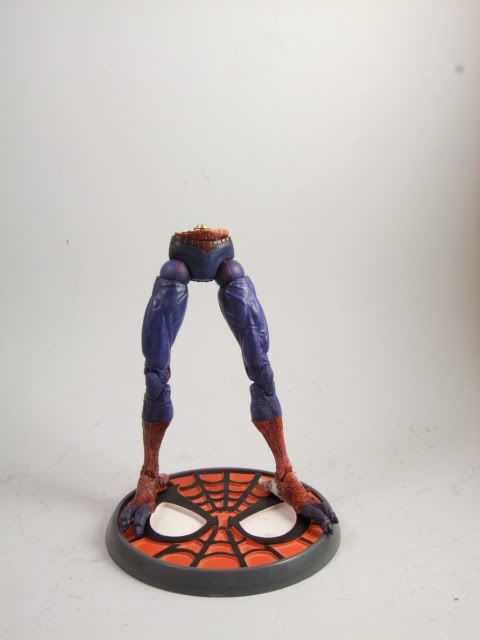 So that left the paint. Let me tell you, if I hadn't been snowed in, there would've been no way I would've chosen to sit down and paint all those webs. BORING! Fortunately, the redesign of Doppelganger showed him having a kind of tattooed web pattern across his body, that wasn't as exact as Spidey's costume, so that let me keep it a bit rougher than a tightly designed costume approach would.