My next custom actually pre-dates Onslaught, and was an entry into the Bug Off! Custom Contest over on FigureRealm. I couldn't post him anywhere else until the contest was over, but here he is.




Swarm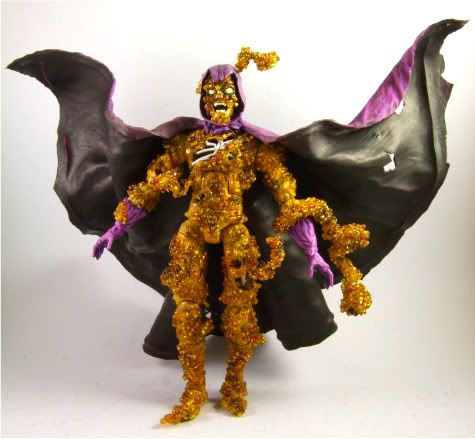 Sometimes I'm a victim of my own convictions. Take this guy for example, Swarm. I made a decision late last year that I would enter the next Figure Realm contest, no matter what it was. I wanted the challenge!

So I was a bit lost when the next contest was insect themed. Not because I couldn't think of insect based characters to make, but rather because I instantly thought of Swarm and the challenge of realising the character really stuck with me.

How do you convey the idea of a human skeleton covered in bees, wearing a purple cloak and gloves?

The answer was unfortunately, not easily.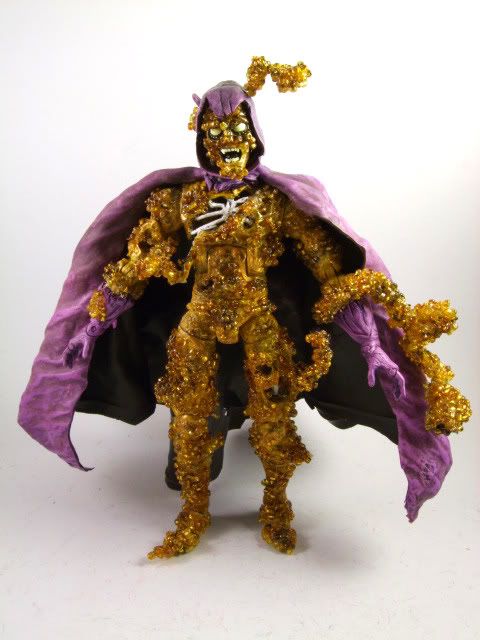 I chose a LCBH Madman figure as a base. He had very little definition to his design, so I wouldn't be losing a good fodder piece by tearing him up for what was a bit of an experimental custom.

I dremeled randomly all over him to create a rough surface and gouged out holes in his limbs and hollowed out most of his upper body. I swapped his head for a Spider-Man Classic Hobgoblin, and his hands for a F4 movie Reed Richards.

I chose Hobgoblin's head as it matched the image of Swarm I had in Runaways. It also already came with the hood. I sliced the face off of Hobgoblin and attached a magnet to the back of the face and embedded one in the head so that the face could be swapped out for his alternate look which comes from a ML Face Off Red Skull.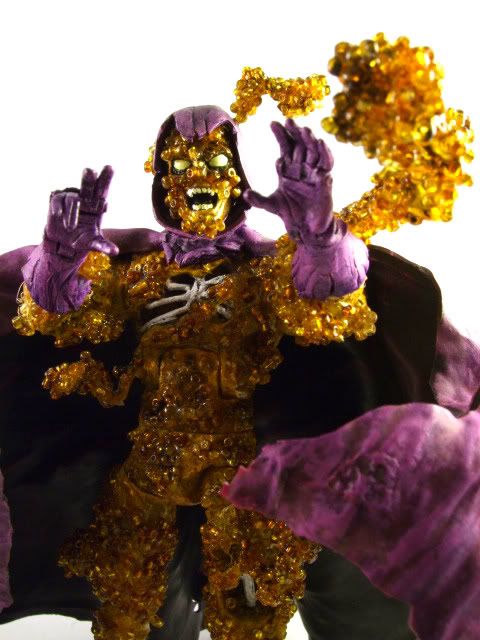 Then, to create the skeleton inside his body and limbs, I took some electrical wire and glued it inside the cavity of his upper chest, arms and legs. To get the flexible wire to remain stiff I covered it in superglue and then sprinkled talcum powder over it. The powder was absorbed into the glue and when it dried it created a hard crust which made the wire rigid. It also helped to create a nice, calcified effect rather than the smooth surface of the insulate wire.

Next, I started to work on the main feature: the swarm of bees. I had thought long and hard about how to convey the effect, but I just didn't have the patience to be sculpting lots of little bee sized balls and glueing them on. I thought that would look like he was covered in yellow balls more than anything, so after wandering round the craft store looking for inspiration I settled on using beads. I chose the smallest transparent yellow, gold and black beads I could find and just went to town on him.

Before I put the beads on, I coated the whole thing (apart from the skeleton) in yellow paint.

I used hot glue on some parts and then just poured the beads over him, letting them attach in their own haphazard way. I was careful to stay away from the articulated sections as I didn't want his movement to knock the beads off. I also just superglued the beads on in some sections and they started to make cool shapes. I used wire in some sections where you can see the bees spiralling out from him.

I covered the beads in transparent yellow paint, and then washed it with transparent black at certain parts. I drybrushed some sections with gold as well to pick out areas.

The final addition to him was his cape. I had been working on it all the while I was making him as it was a very time consuming process. It is made from scratch using liquid latex. I drew out a rough shape on greaseproof baking paper /parchment paper, and mixing a little purple paint in with the liquid latex, painted onto the paper. After a thin layer had dried I would mix up another batch of purple latex and add another layer, and repeat. Once I had about 5 layers down, I added in some electrical wire around the edges of the cape so that it would be poseable. I then painted another 5 or so layers on top of the wire to make sure it was good and embedded in there.

Once the cape had dried, I coated it with talcum powder so that it didn't stick to itself and peeled it off the paper. I then cut it to shape and attached it to the figure to create a full poseable cape.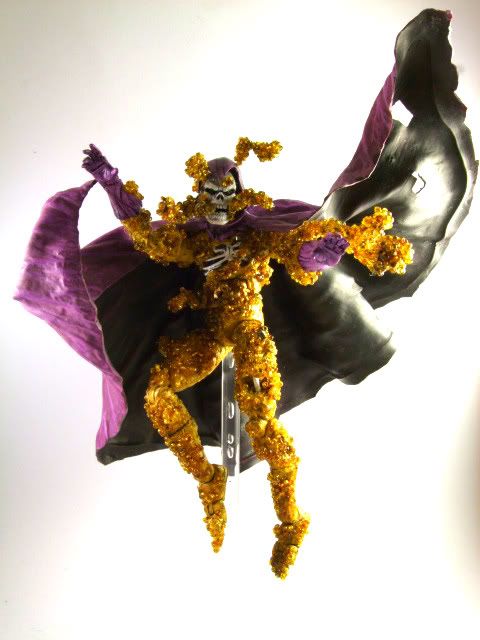 All in all, I am happy with how Swarm turned out. He was a lot of work and quite experimental, but satisfying. I don't know if I've quite managed to capture the effect of a humanoid swarm of bees, but I'll let others be the judge of that.
Oh, and he won the contest. That's two contests I've won on FigureRealm. I've only entered two, but yeah, I'm quite proud and at the moment, bristling with confidence.
Hope you like him!