Onslaught

(version 2)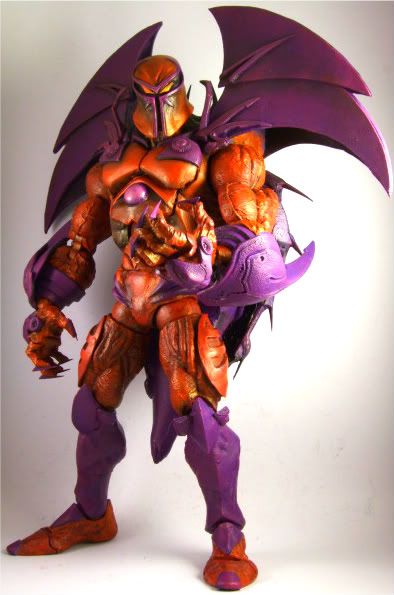 This is my second version of Onslaught. (Click here to see my previous version.)The last one was a commission and I was really proud of it, so I was gutted when I had to let it go. Soon after I made that (in Summer 2009) I started recreating one for myself.

Yeah, it got sidelined for a while.

Anyway, he's back, and not in a horribly scripted Jeph Loeb, horribly drawn Rob Liefeld way (meow)!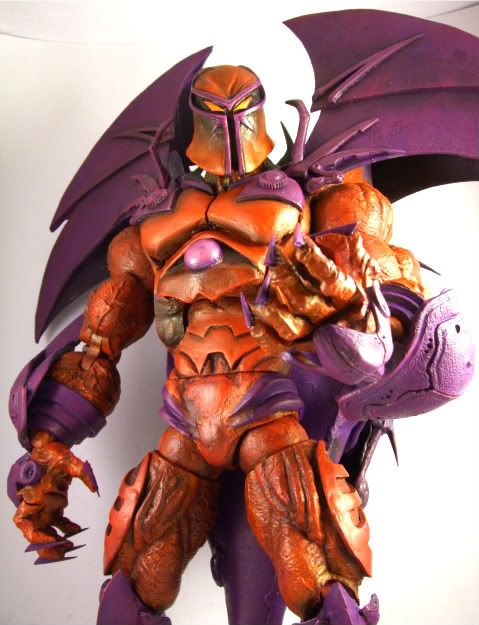 This Onslaught uses the Marvel Legends Icons Venom as a base. His head was completely resculpted and his armour was created from a combination of sculpting, fodder pieces and other materials.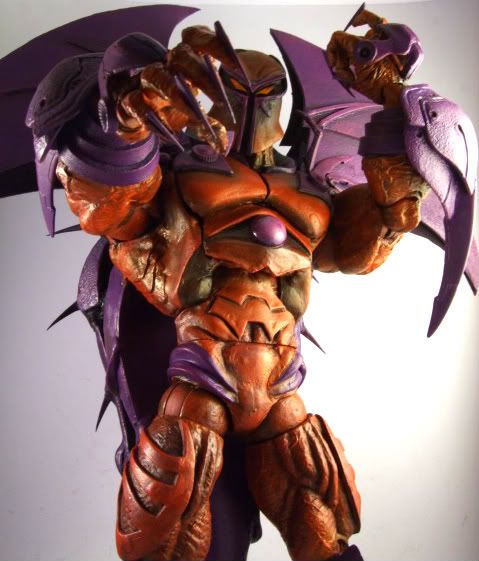 As with my previous Onslaught, I hollowed out the chest and recreated the opening chest effect. I added some magnets to the doors of his chest so that they snap closed and hold there during posing.

Inside, held in black ooze (hot glue with gloss black) is a Charles Xavier head and hand. The head is created from a ML Longshot with resculpting to the expression, and the hand is from a SOTA Remy.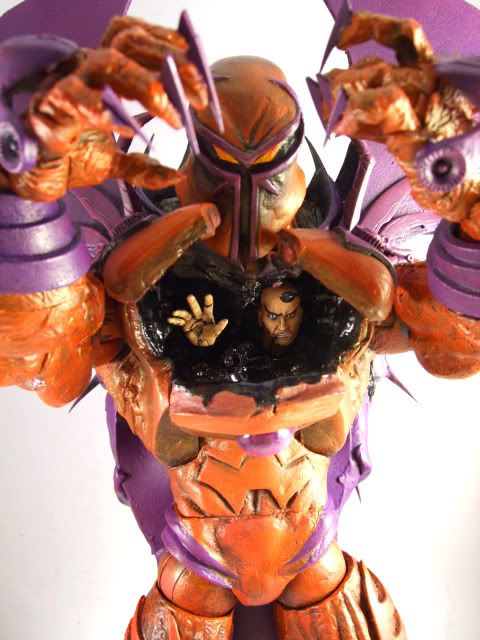 New additions to this version of Onslaught are the four tendrils that can be inserted into his chest cavity.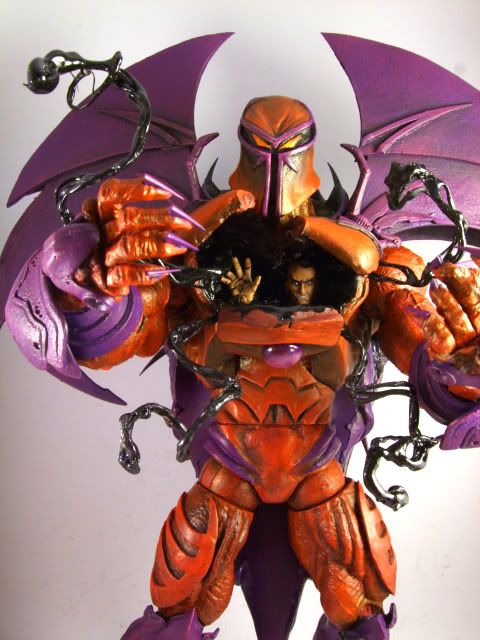 These are good for a general effect but the real reason I added these is for this little guy:



Franklin Richards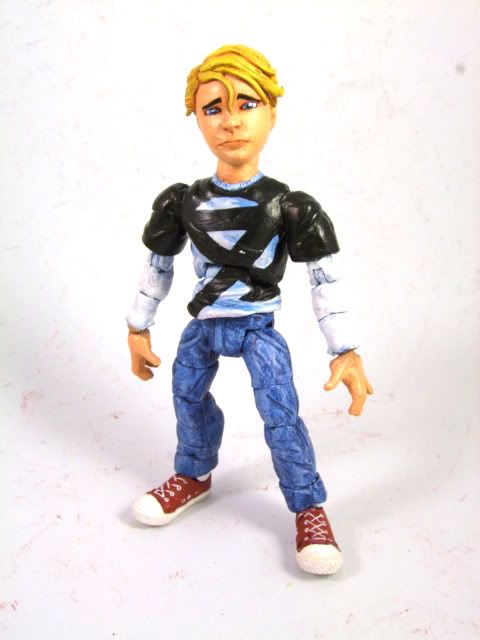 Franklin is made from a LOTR Gollum figure. I had to shorten his limbs and torso to lose the grotesque proportions and then completely sculpt the clothing. His shoes are from SOTA Sakura and his hands are from SOTA R.Mika. His head is a resculpted ML X-23.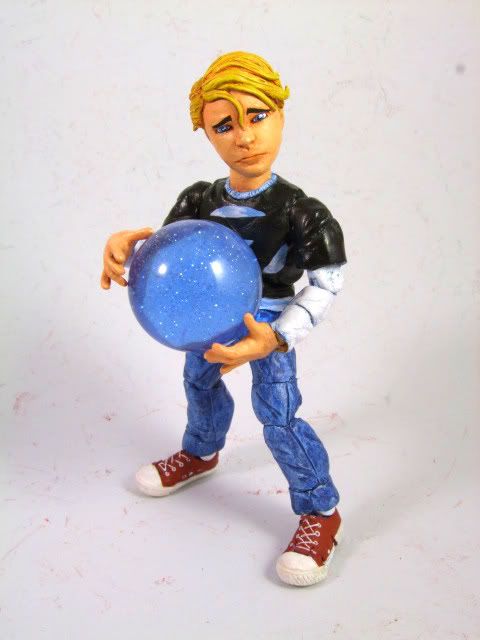 The Heroes Reborn Universe... ball... thing comes from MOTUC King Grayskull.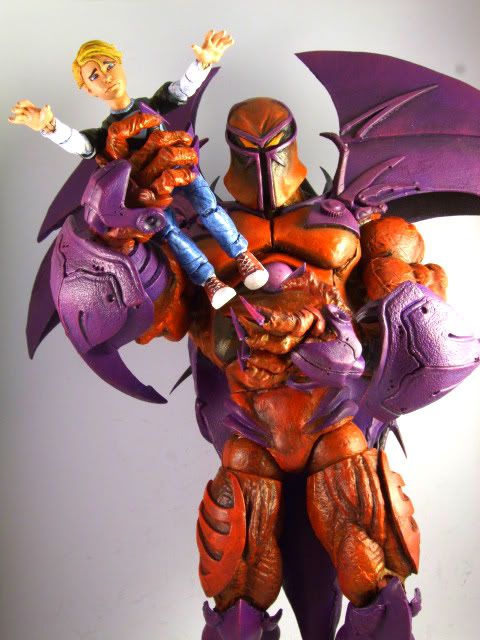 Franklin can be held by Onslaught in his hand, or entwined in the tendrils.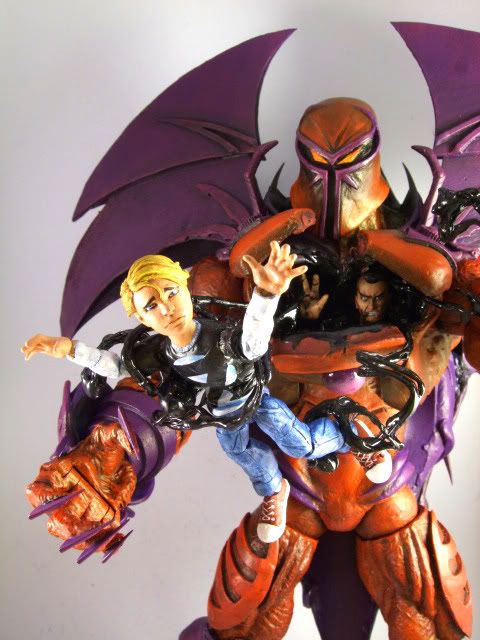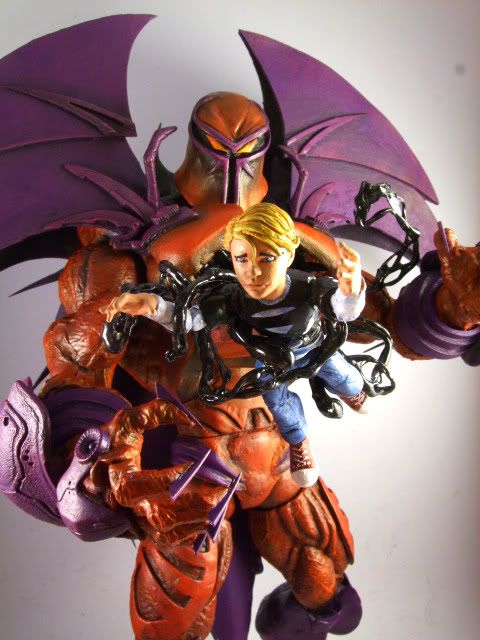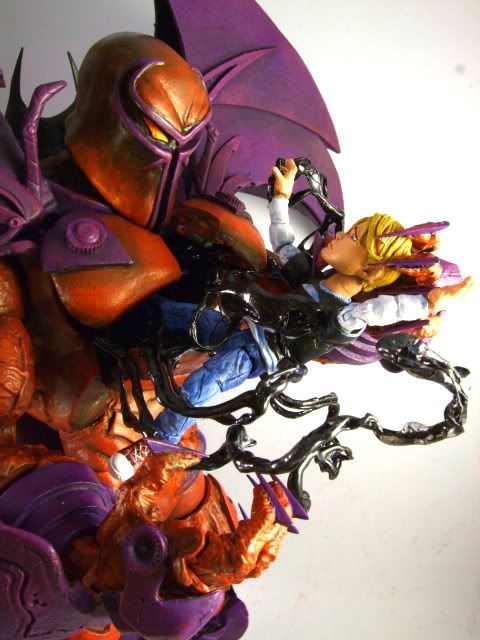 Onslaught's final secret is inside the shell on his back.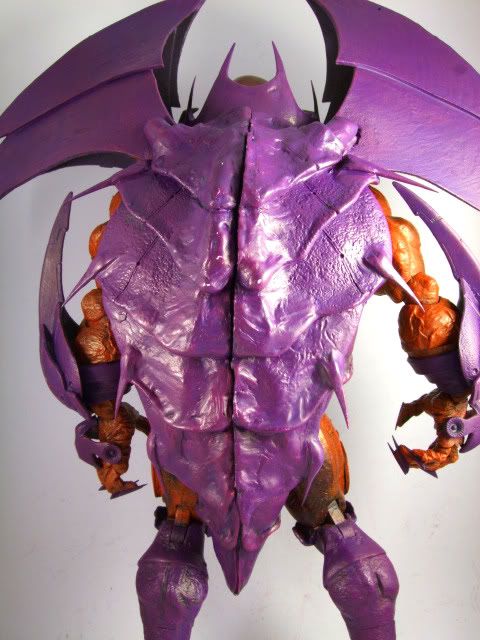 The shell is hinged and splits down the middle, folding up like wings to reveal:



Nate Grey, X-man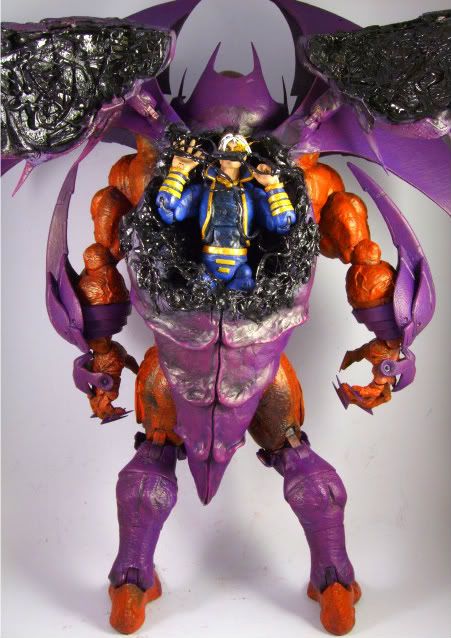 Nate, like Xavier is held in black ooze.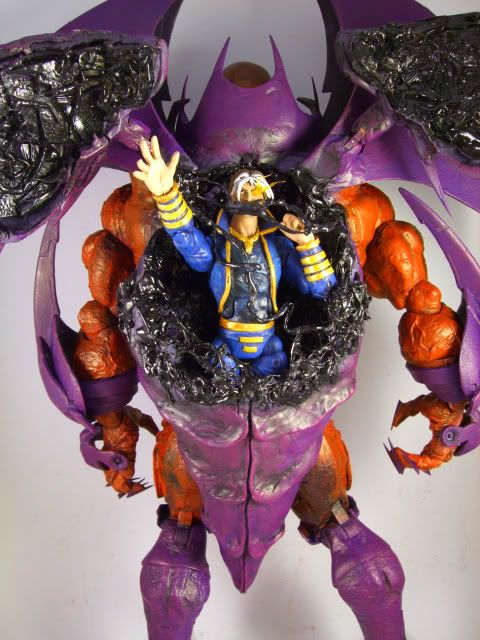 Unlike Xavier though, Nate is fully removeable and a figure in his own right.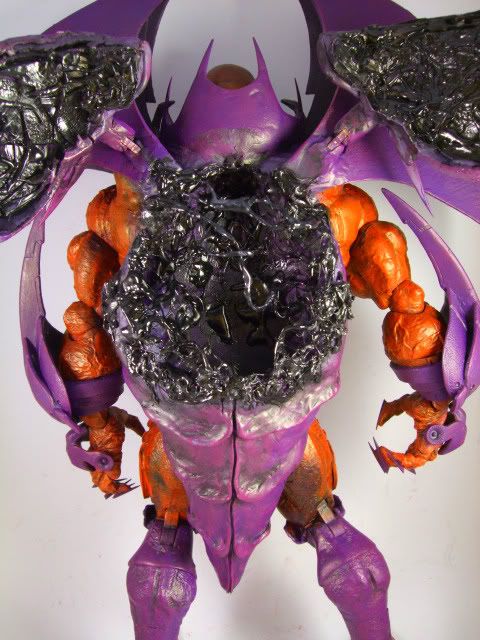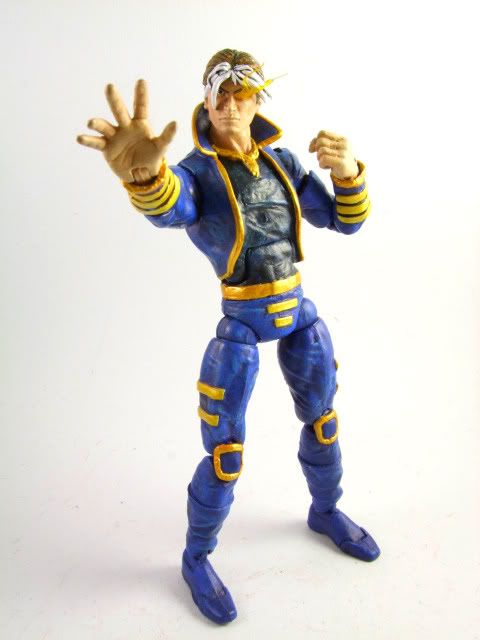 Nate is made from a ML Longshot with all the detail sculpted on (apart from his collar which is just slightly cut down from its previous disco proportions) and his replacement hands are from SOTA Remy.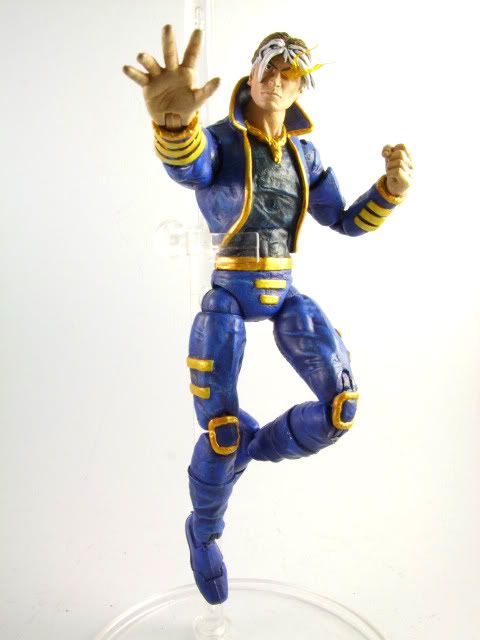 I had a slight problem in that I wanted Nate to have a neutral expression when he was out of the shell, but to look distressed when he was restrained inside Onslaught. To resolve this I created a little magnetic tendril of black ooze that snaps over his hands and his lower face while he's in the shell. I felt that by covering his lower face and only showing his eyes, it was easy to read distress into his expression.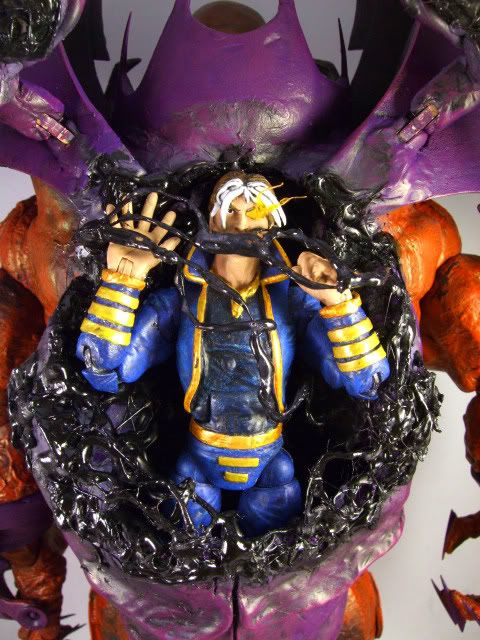 WIP shots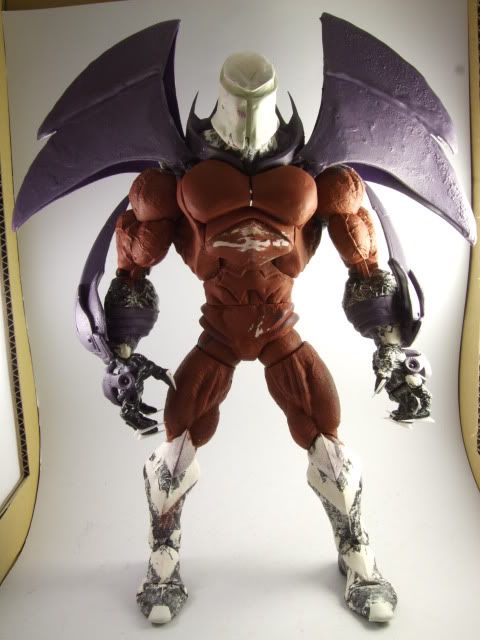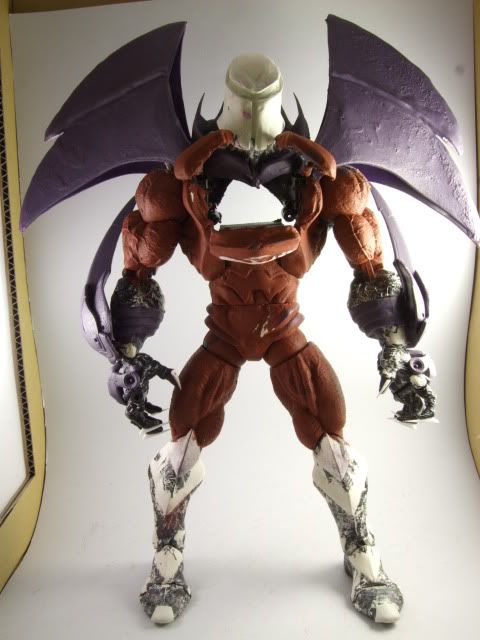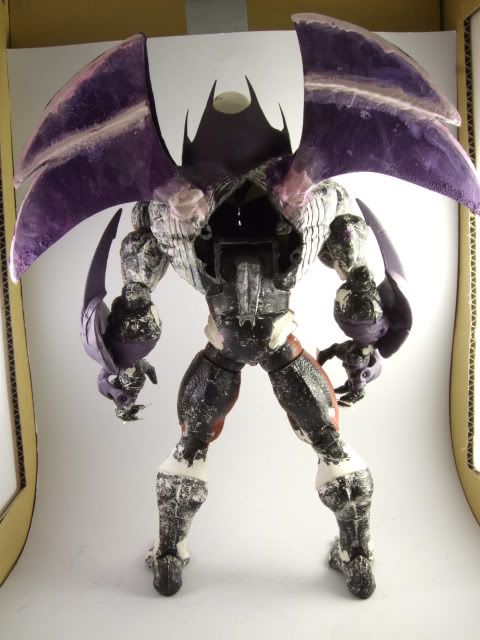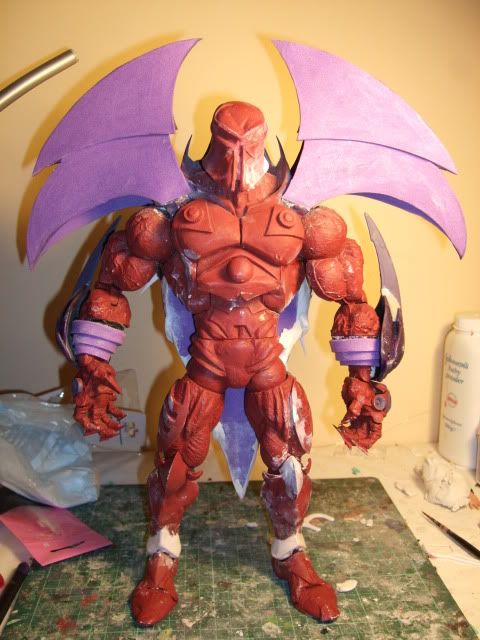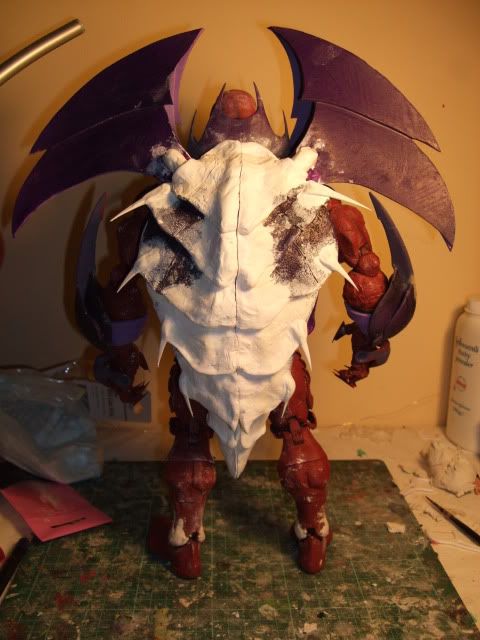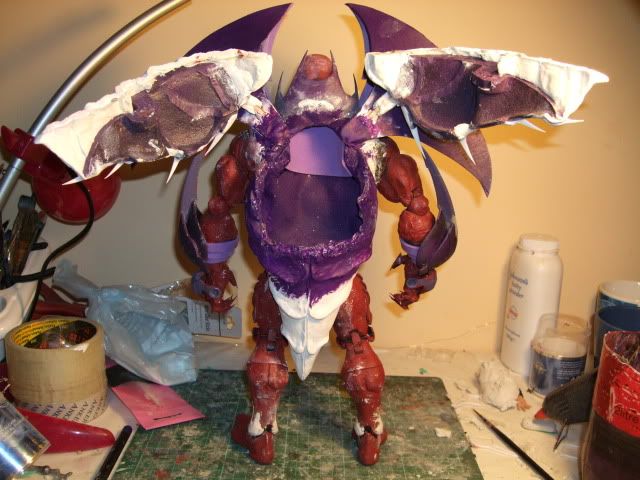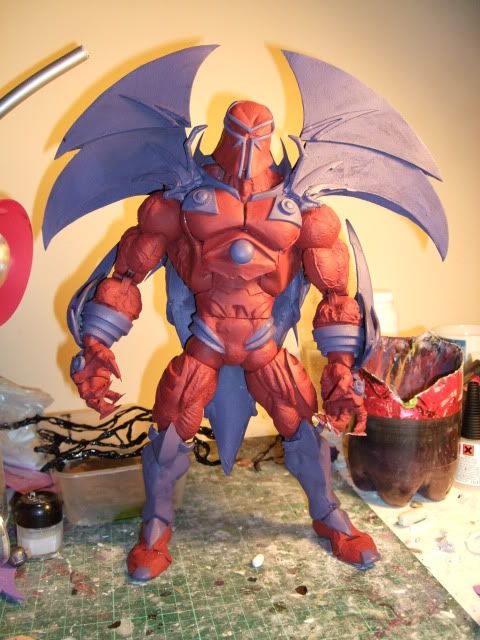 So there we have Onslaught and his 3 captives. I hope you guys like him.